Wiki News
07.22.08 - Updated thanks to members of the site and guests that continually help make this great. Working on statistics for classes, and many new changes coming, including a template for adding items, etc.
05.23.08 - ADDED new "Files Library" section so anyone can update images/info with our established graphics sets.
05.09.08 - Added new skill trees for the Berserker and Bioengineer.
05.09.08 - Added a new "Enemies" Section.
05.09.08 - Changed "Gameplay" section to "Interface". Added pages: HUD & Controls.
05.09.08 - Added Ammunition and Runic Charms.
05.09.08 - Updated Alignments, Nav Bar, and More!
04.24.08 - Updated the tables, new icons, new features

Helping out
To write a new article, just enter the article title in the box below.

<createbox> width=24 break=no buttonlabel=Create new article </createbox>
Not sure where to start?
Welcome to the Too Human Wiki!
" A lot of people, particularly in the past, have confused the video game industry as a technology-based industry. But really it's not, it's about entertainment and what we can do to entertain people using the technology." ― Denis Dyack
Featured Media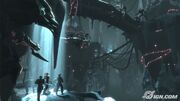 Featured Article
Heimdall is the god of light, the son of nine mothers (variously given as the daughters of Geirrendour the Giant or of Aegir). He was born at the end of the world and raised by the force of the earth, seawater and the blood of a boar. Because of his shining, golden teeth he is also called Gullintani ("gold tooth"). His hall is Himinbjorg, The Cliffs of Heaven, and his horse is Gulltop. Heimdall carries the horn Gjallar.

He is the watchman of the gods and guards Bifrost, the only entrance to Asgard, the realm of the gods. It is Heimdall's duty to prevent the giants from forcing their way into Asgard. He requires less sleep than a bird and can see a hundred miles around him, by night as well as by day. His hearing is so accurate that no sound escapes him: he can even hear the grass grow or the wool on a sheep's back. At the final conflict of Ragnarok he will kill his age-old enemy, the evil god Loki, but will die himself from his wounds...